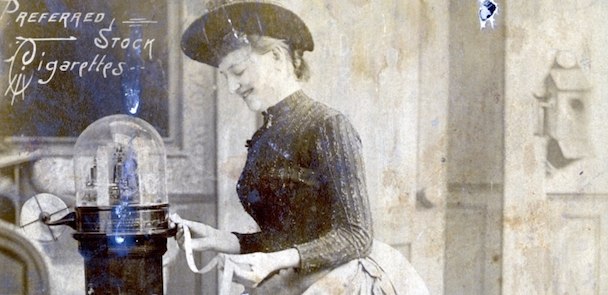 January 22, 2023
Happy Year of the Rabbit, dear readers! I haven't managed to post news for a while, partly because I was teaching last semester for the first time in ages, at Barnard, which I loved (I miss my brilliant and inspirational students!), and also partly because I've been putting a lot of time into an essay about rereading Russian novels in the light of the Ukraine war. (I've been working on this piece for seven months, and thinking/ reading about it for more than three years.) The result, "Novels of Empire," is scheduled to run in the January 30, 2023, issue of The New Yorker. I am deeply grateful to Valerie Steiker, the editor of the piece, who exercised enormous ingenuity in helping me to turn an undisclosed number of extremely long and discursive drafts into a magazine story.
This is something I really wanted to do, because, in the past years, I've had some unique opportunities to recognize blind spots in how I have always read "classic" Russian novels, and canonical novels in general. Briefly, I thought of "great" novels as universal works, full of human truths, to be read somehow separately from historical or geopolitical considerations… but that isn't how writing, or reading, actually happens! I've noticed similar blind spots in criticism by people with a similar educational background to mine… which feels particularly urgent, now that we are almost a year into a war where many on both the Ukrainian and Russian sides attribute a real role to canonical literature. I think it's a really important time for readers in places like the U.S., too, to rethink our relationship to "universal" literary works.
Because I was trying to cover a lot of ground in a very limited space (with no footnotes), I wasn't able to cite many of the brilliant scholars (writers, translators, journalists, etc.) whose work informed my thinking, many of whom also generously helped with the fact-checking. My heartfelt thanks to the fantastic checker at The New Yorker, Sarah Chatta, for rescuing me from many dire mistakes (though if any are left, they are my fault)—and also to Kate Norris for much editorial assistance, including drawing my attention to persistent overuse of the words "dire" and "direly." I have since learned to ration them more mindfully.
I'm profoundly grateful to everyone who enabled my first/ only trip to Ukraine, in 2019, including Polina Sadovskaya and Suzanne Nossel at PEN America, Tetyana Teren at PEN Ukraine, and Olha Krekoten and Michael Hackett, at the U.S. Embassy in Kyiv. The first idea for an essay like this came from conversations with Olha, Tetyana, and the brilliant Iryna Slavinska, who took the time from Kyiv in March 2022 to send me several useful links about literature. I am also grateful to Tetyana for introducing me to the work of Oksana Zabuzhko, whose 1996 novel, Fieldwork in Ukrainian Sex, and her 2022 essay, "No guilty people in the world?" were key to writing this piece.
Thanks are also due to the many people who helped me in Tbilisi last summer, starting with Ben Meredith, who invited me to give a talk at We Must Believe in Spring, and strongly encouraged me to write about my experiences, and generously shared many contacts—as well as to Katya Korableva and Polina Bakhtina, who introduced me to many important people and ideas. I'm grateful to Daria Apokhonchich, Stas Gaivoronsky from Itaka Books, Anna Kats, Christopher Merrill, Iva Pezuashvili, and Walker Trimble, for illuminating conversations.
I learned so much from Lika Antadze of Chai-Khana, an incredible multimedia storytelling site with work from across Transcaucasia. (I especially loved "The War in Ukraine, through the Eyes of Abkhazia," by Lela Jobava.) (Chai-Khana also has a very beautiful book for sale.)
I feel really lucky to have met the artist Dagnini, and the filmmakers Salomé Jashi
(whose fantastic film, "Taming the Garden," is mentioned in the piece; thanks to Nicolas Rapold for the introduction to her work), and George Sikharulidze (whose Stalin-related short film you can see here). In an earlier draft, there was a whole thread about Stalin's relationship to literature that didn't make it in… but I did love Ronald Grigor Suny's' book, Stalin: Passage to Revolution and his appearance on the excellent podcast, "Reimagining Soviet Georgia" (by Sopo Japaridze and Bryan Gigantino). Suny's The Making of the Georgian Nation is also terrific, and I believe Prof. Suny was particularly heroic with the fact-checking.
I would be remiss not to acknowledge some of the fantastic work on the Russian literature of the Caucasus, and especially about Pushkin's relationship to empire. A few really important books that predate the current situation, in some cases, by decades: Pushkin and Romantic Fashion: Fragment, Elegy, Orient, Irony, by my brilliant Ph.D. advisor, Monika Greenleaf; Russian Subjects: Empire, Nation, and the Culture of the Golden Age, eds. Monika Greenleaf and Stephen Moeller-Sally; Russian Literature and Empire: Conquest of the Caucasus from Pushkin to Tolstoy, by Susan Layton; and The Imperial Sublime: A Russian Poetics of Empire, by Harsha Ram. Another great book is Writing at Russia's Border, by Katya Hokanson, who generously helped with fact-checking;
For the relationship between Georgian and Russian romanticism/ nationalism, see "Romantic Topography and the Dilemma of Empire: The Caucasus in the Dialogue of Georgian and Russian Poetry," by Harsha Ram and Zaza Shatirishvili (Russian Review, 2004); and "Georgian political romanticism in the Caucasus," by Zaal Andronikashvili, from the book Identities and Representations in Georgia from the 19th Century to the Present, ed. Hubertus Jahn.
Also hugely recommended: The Eighth Life: For Brilka, by Nino Haratischwili (a giant multigenerational family novel where the family saga parallels the relationship between Georgia and Russia over the twentieth century).
A major source for info about Georgian poets was Donald Rayfield's The Literature of Georgia: A History. (Also helpful: Rayfield's Edge of Empires: A History of Georgia.) I loved this excerpt from Tamta Melashvili's 2015 novel, Eastwards—the excerpt is also translated by Donald Rayfield, though I believe Melashvili's novels, like Iva Pezuashvili's, don't have English translators, and someone needs to get on this.
Moving on to postcolonial critiques of Russian literature… I was ENORMOUSLY grateful to Imperial Knowledge: Russian Literature and Colonialism, by Ewa Thompson: the first book I encountered that really did an Edward Said, Culture and Imperialism-style take on texts like Eugene Onegin, "The Bronze Horseman," War and Peace, and Anna Karenina.
My understanding of postcolonialism in the post-Soviet context was also informed by David Chioni-Moore's "Is the Post- in Postcolonial the Post- in Post-Soviet?" (PMLA, 2001), and by the work of Vitaly Chernetsky, who generously helped with the fact-checking. See in particular the first chapter ("Cultural Globalization, the 'Posts,' and the Second World") of Chernetsky's Mapping Postcommunist Cultures: Russia and Ukraine in the Context of Globalization. (Also by Madina Tlostanova's incredible work—more below.)
I loved Edyta M. Bojanowska's 2022 essay, "Was Tolstoi a Colonial Landlord? The Dilemmas of Private Property and Settler Colonialism on the Bashkir Steppe."  I learned about Gogol's response to the letter from Alexandra Smirnova-Rosset (the "celebrated literary hostess"—it was hard to know how to characterize her… FWIW there's a museum devoted to her at the Caucasian House in Tbilisi, where I spoke last July) from Bojanowska's incredible book, Nikolai Gogol: Between Ukrainian and Russian Nationalism. Another tremendous Gogol book is Yuliya Ilchuk's Nikolai Gogol: Performing Hybrid Identity. I am so grateful to both Bojanowska and Ilchuk for their help with checking.
Thanks also to Serhii Plokhy, both for his wonderful book, Lost Kingdom: The Quest for Empire and the Making of the Russian Nation, and for help fact-checking (esp clarifying the difference between "the Russian World" and the "triune Russian nation"); also to Liubov Terekhova, who wrote a great essay on (among other things) coming to terms with the marvelous Mrs. Maisel's Russian major.
I was really grateful to learn about the exciting work being done in decoloniality, a field about which I previously knew nothing. Madina Tlostanova's great essay, "Can the Post-Soviet Think?," is mentioned in the piece, and she generously helped with checking. (Earlier drafts had a lot more about Descartes and the relationship of Cartesianism to imperialism, informed largely by Zero-Point Hubris: Science, Race, and Enlightenment in Eighteenth-Century Latin America, by Santiago Castro-Gómez.)
Some translators of Russian classics whose work was consulted or quoted:
Anna Karenina: Louise and Aylmer Maude; Richard Pevear and Larissa Volokhonsky
Hadji Murat: Louise and Aylmer Maude
Eugene Onegin: Vladimir Nabokov
"Journey to Arzrum": Pevear and Volokhonsky
"The Nose": Ronald Wilks
Crime and Punishment: Constance Garnett
Also this translation of "Prisoner of the Caucasus."
I think the point about Anna Karenina being a continuation of Eugene Onegin is first (?) made by Boris Eikhenbaum.
The main source for Tolstoy's life was Henri Troyat's Tolstoy, and the biographical notes by Aylmer Maude. There are a lot of great sources on Tolstoy's "conversion" (or "spiritual crisis," depending on who you ask); I'll mention particularly Inessa Medzhibovskaya's Tolstoy and the Religious Culture of his Time.
Some sources re: Hadji Murat:                                                                                                         Viktor Shklovsky, "Posledniaiai povest' L. Tolstogo."
Edmund Heier, "Hadji Murat in the Light of Tolstoy's Moral and Aesthetic Theories" (Canadian Slavonic Papers, 1979).
Thomas Seifrid, "Gazing on Life's Page: Perspectival Vision in Tolstoy" (PMLA, 1998).
Richard F. Gustafson, Leo Tolstoy: Resident and Stranger.
Ani Kokobobo, "'Why Does Russia Need Hadji Murat's Head?': Hadji Murat, Dagestani Identity, and Russia's Colonial Exploits," in the book Russia's Regional Identities, eds. Edith Clowes, Gisela Erbslöh, Ani Kokobobo.
The main source for everything Dostoevsky-related (including the story of the courier and its importance in Crime and Punishment and Dostoevsky's work overall) is Joseph Frank's incredible Dostoevsky: A Writer in His Time (the single-volume edition of his eight-volume biography), and especially Dostoevsky : The Mantle of the Prophet, 1871-1881 (the last volume, which talks about A Writer's Diary and the Pushkin speech).
For additional fact-checking help I am grateful to Andrey Borzenko, Luba Golburt, Olga Maiorova, and Tom Newlin. Thanks also to Masha Gessen, for moral support and much invaluable reporting and analysis (esp "The War in Ukraine Launches a New Battle for the Russian Soul"). 
Apologies for everything and everyone I am surely forgetting; and again, mistakes are my own, and so are a lot of the opinions. (E.g. I'm not aware of many Slavists who totally agree with me about love ruining the lives of Anna Karenina and Tatiana Larina (and in fact I am aware of two or three who strenuously disagree; and I would concede that it's a longer conversation than there was room for.) My thoughts on many of these subjects are still evolving. But of course if one waited until one knew what one thought, one would never manage to write anything, and I did really want to share my thinking, in case it might be helpful to others.
Thank you for reading!
September 10, 2022
Happy fall, dear readers! Please check the Events page for events in New Orleans, New York, and Vancouver. Stay tuned for dates in Mallorca, Boston, and Austin!
June 8, 2022
Huge thanks to Nadja Spiegelman, Rachel Aviv, Beth Blum, Matthew Davis, Grace Lavery, Rachel Khong, and everyone who came out for the Either/Or US tour. It was a joy and a privilege to meet so many smart and thoughtful readers. And I am so grateful to everyone who helped Either/Or make it onto the NYT Best-Sellers list!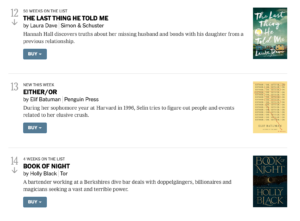 I just got to London, where it was another ginormous privilege to talk to Merve Emre, who made sure we had a nice big pile of bibliographic materials on the table for our conversation. If anyone missed it, there are still a few tickets left for my other London event, this Friday at Second Home. In the meantime, I'll be in Edinburgh tomorrow, at the Ukrainian Community Center 🇺🇦. 
There are now Spotify playlists up for both Either/Or and The Idiot, where (almost) all the tracks date to the mid-90s or before. And, thank you to all the Spotify users who have put up their own playlists! I'm so excited to listen. I feel so lucky to have such engaged and awesome readers! 
May 16, 2022
OK you have to check out this magical bookmark that the Great Penguins made!
If you open Spotify, go to Search, tap the camera icon, and aim your phone camera at that code, which, to me, looks like an oration by Woodstock…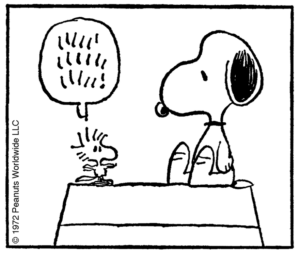 …then Spotify will send you to an Either/Or-themed playlist!
Also, here is a very nice graphic for the US tour.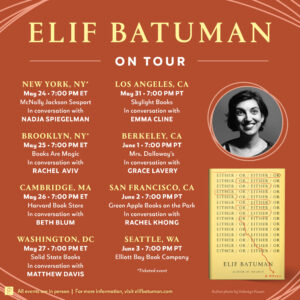 May 15, 2022
Dear readers, hello! The release of Either/Or is coming up on May 24 and I'm excited to announce in-person events with a dream team of interlocutors in the following great cities of the continental United States: New York (Manhattan / Brooklyn), Boston, Washington, D.C., Los Angeles, San Francisco, Berkeley, and Seattle. Please keep checking the Events section for hopefully more dates soon (including some in the UK! So far, I know about this one in London). In the meantime, The New Yorker published a short story adapted from Either/Or, titled "The Repugnant Conclusion," with some memorable banana-related artwork. 
🍌🌎🧿💫   
March 4, 2022
Hello, dear readers! If anyone is watching Season 3 of "My Brilliant Friend" on HBO and is as into it as I am, they might like to check out the online Watch Party that McNally Jackson is doing every Monday at 9:30, through April 18. I will be on there on April 4, talking about the previous week's episode, where Nadia and Pasquale will apparently show up at Elena's apartment in Florence and make her feel bourgeois.
February 18, 2022
Hi, everyone, here is some news!
I recently profiled the filmmaker Céline Sciamma for the New Yorker. I could have written a whole book about her, she made my head explode. Agh look how cool she is.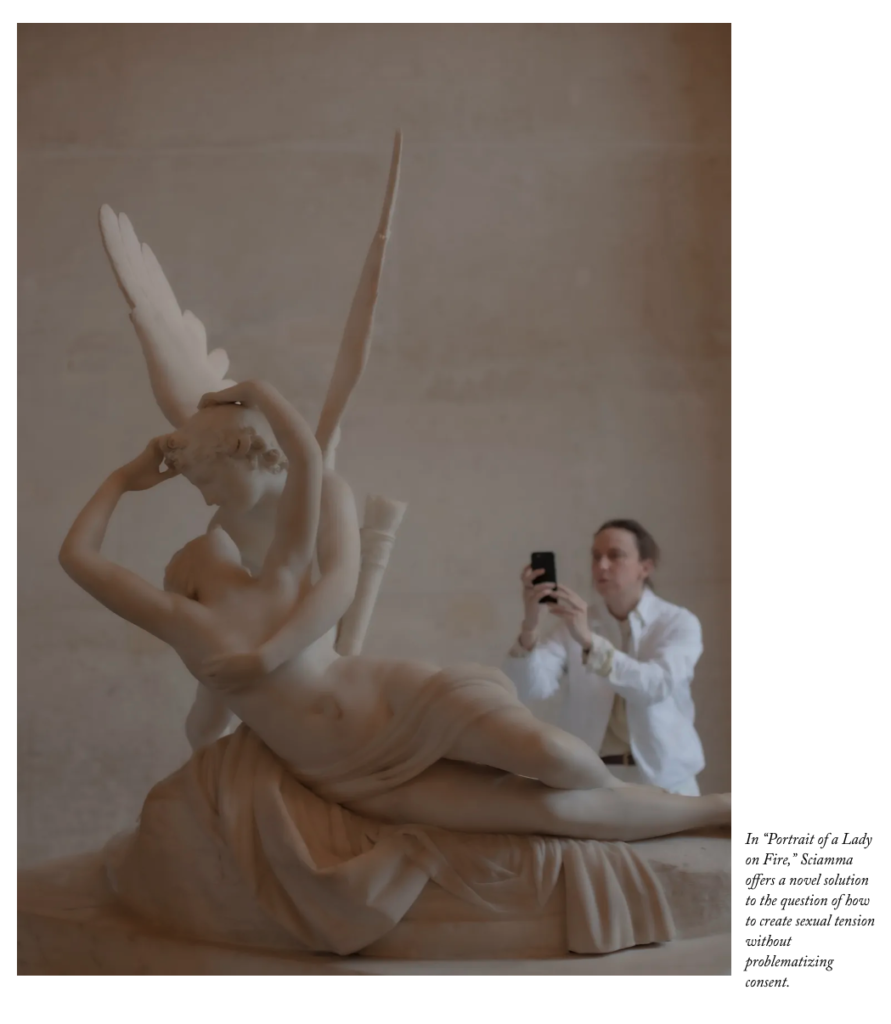 I was thinking A LOT about Sciamma's work when I was revising my forthcoming novel, Either/Or… which you should totally pre-order! Check out this beautiful starred review in Publishers Weekly!
In conversational news, I will be talking to Sheila Heti about her profound, bonkers, and FABULOUS new novel, Pure Color, tonight at 9PM Eastern/ 8PM Central. Sorry that's kind of short notice but it will probably be recorded. Speaking of recordings, I recently talked to the brilliant Grace Lavery about her also bonkers and fabulous memoir, Please Miss, at Greenlight, and now I finally understand the relationship between memoir and pastiche!
Also newly available online: a Film Independent Coffee Talk I did with the inimitable Sandi Tan, who is working on a screen adaptation of The Idiot.
OK that's it for now. I hope to have more to share soon!